User Management. Sending instant messages to users

---
You can send instant messages to a single or multiple users directly from the Management Console of Bopup Communication Server. To send an instant message select and right-click on a user in the User Management section of the tree and select the "Send instant message" menu item from the pop-up menu. You can also select the "Account\Send instant message..." item from the main menu. This opens the Send Instant Message dialog box.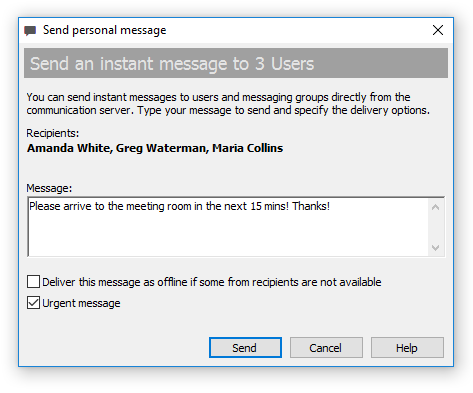 Sending instant messages to users from the Management Console
Use the following options to deliver instant message:
"Deliver this message as offline if some from recipients are not avalable" — Use this check box to enable offline and delayed delivery of your message. The server will automatically save the message as offline if someone from recipients is currently not available and will send the message when the recipient goes online. Otherwise the message will be sent to online users only (that are currently connected to the IM server).


"Urgent message" — Select this option to send the message as an Urgent one. An Urgent message automatically activates the IM client window when the message is received even if these settings on the client are disabled and highlights it in red. Use this for high priority messages.
Click
Send
button to deliver your message to selected recipients. Please note that you cannot send messages to disabled (inactive) user accounts on Bopup Communication Server.